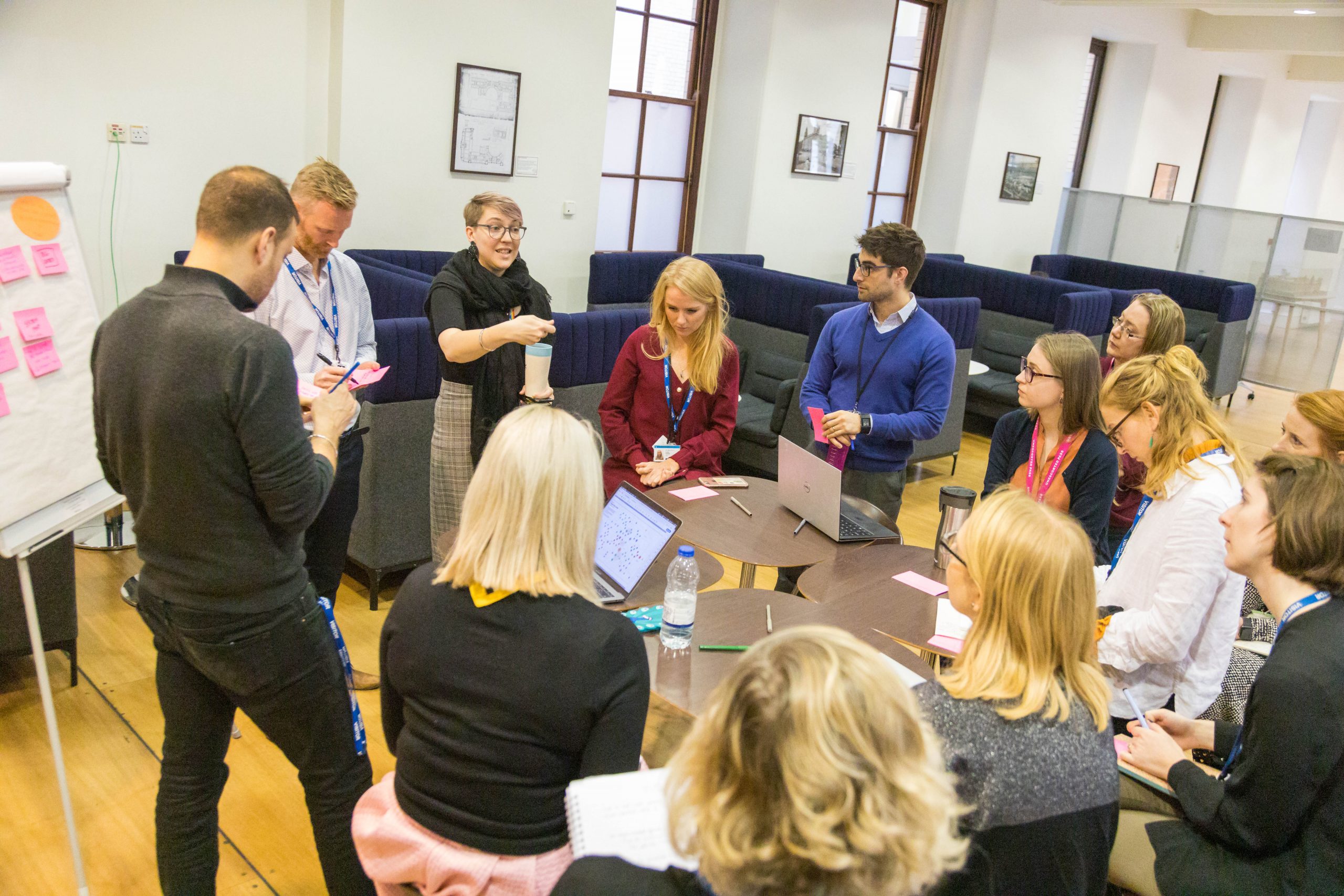 I am often challenged that systems thinking is just another workplace fad. I thought I'd share my systems thinking journey, how it has benefitted me and my work and how it makes a lasting difference.
I first came across systems thinking when my line manager handed me a copy of Peter Senge's book, The Fifth Discipline.  I wanted to understand how best to transform organisations and keep focussed on the outcomes we wanted. 
Alongside the book, which I found really inspiring, I was lucky enough to be surrounded by experienced Operational Researchers in my team who were very used to applying the principles.
I managed to pick things up from them. This enabled me to design workshops to bring stakeholders together, gather their thoughts and different perspectives on their system and start to design possible solutions to their challenges.
I quickly realised the power of systems thinking. It focuses on outcomes and it uncovers complexities. Complexity is something which we often interact with in government and achieving the best outcomes for the citizens we serve is the reason many people go into public service. 
The best policy decisions should be made with an understanding or proposal of how an intervention will impact the wider system. 
Without it, the risk of unintended consequences is high. 
I'm passionate about promoting systems thinking in the public sector because I really believe there is energy created in understanding the gap between where the current system is and where we want it to be. I believe it can help us to be more efficient and deliver better outcomes for citizens. 
I'm so passionate about it that I co-founded STIG, the Systems Thinking Interest Group, which I'll talk about in this post. 
What is a system anyway?
So let's start from the top. I understand a system to be 'a set of elements or parts interconnected in such a way that they produce their own pattern of behaviour over time' (as inspired by Donella Meadows.)
Systems thinking is therefore the framework for seeing these interconnections and a discipline for seeing and understanding the whole system, from structures to root causes.
Essentially, it provides us with a language that begins by restructuring how we think. Systems Archetypes are a useful way of capturing the "common stories" in systems thinking – patterns of structure that recur again and again in diverse settings.
There are many benefits of attempting to understand the detailed interactions within a system:
Understanding and intervening. It helps bring an increased, shared understanding of the problems, the goals and the potential impacts of policy interventions, leading to more developed theories of change. It also helps focus on treating the root cause of problems. Where to intervene in a system is really important and is covered by Donella Meadows' article

"Leverage Points: Places to Intervene in a System"

.

Evidence. It helps us to identify data and evidence gaps and prioritise research

Relationships and acceptance. It can help to develop relationships between stakeholders and move stakeholders from a position of blame to that of responsibility; to see themselves as part of the wider problem.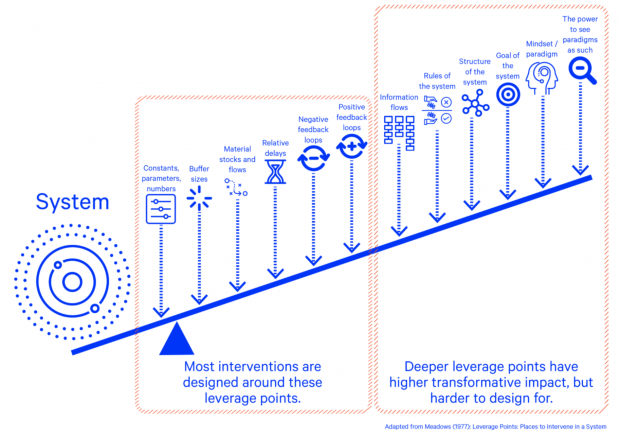 Taken together, systems thinking gives us a powerful set of concepts and help make it possible for us to see places where there is leverage in facing difficult challenges and to explain these opportunities to others.
Is this a fad?
We've seen increased attention on systems thinking in recent years and months. I think this is because we are currently faced with particularly challenging, uncertain and complex issues like coronavirus and climate change. 
However, I think these issues are perhaps more easily perceived as complex and uncertain, where perhaps many of the issues we are trying to solve in government are the result of a complex system, but we've not typically viewed them as such. Often a systems focused approach in areas that are perceived to be well understood can reveal underlying systemic issues. Thus, I believe that systems thinking very much has a role to play across all government priorities.
As a discipline, it's actually been around for quite a few decades! 
Introducing it into our thinking in government 
This does appear to be quite a shift from the way things are currently done, but we should be positive: lots of us are already thinking in a systemic way and it's a good idea to start thinking about it sooner rather than later. Perhaps it might take more 'upfront' time to design more robust solutions for the long term but I would argue it is worth spending the time getting a solution 'right', or as best it can be, to avoid the potential implications and resource drain of things going 'wrong' in the long term. 
We need to resist quick fixes that treat only symptoms rather than root causes, only work in the short term and can undermine long-term effectiveness. 'Fixes that Fail' is actually one of the classic systems archetypes that I'd encourage you to explore.
What we observe is that people find a fix to treat the symptom of a problem. It appears to work in the short term, however the quick fix unfortunately creates long-term unintended consequences that only exacerbate the problem.
Additionally, due to the time delay, people are unable to attribute the negative consequences to the quick fix. In the worst cases they may assume that the solution to seeing the problem symptom returning is to apply more of the quick fix, ultimately causing the cycle to repeat itself.
Possible ways to avoid this occurring in the first place are to challenge the mental models that determine the potential use of a quick fix in the first place. This could be done through systems mapping to help get to the root of the problem.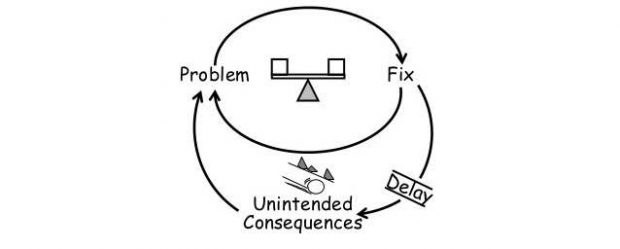 What does the STIG do? 
The Systems Thinking Interest Group (STIG) is a network of approximately 300 officials across government who come together at quarterly meetings where members share past experiences of deploying systems thinking or present new issues to the group. 
We provide opportunities for officials to practice some of the workshopping skills in exploratory workshop sessions and encourage those with existing expertise to support with facilitation and workshops where it is needed.
Our broad aims of the group are:
Awareness - To increase awareness of Systems Thinking across central government. Make Systems Thinking a fundamental 'Go-To' approach that decision makers in government expect to see

Capability - To increase the number of technical practitioners in the Government Operational Research Service (GORS) and beyond

Network - To create a forum where one can share (or ask for) advice and experiences on best practice
If you have any questions about STIG, please leave a message in the comments section below.