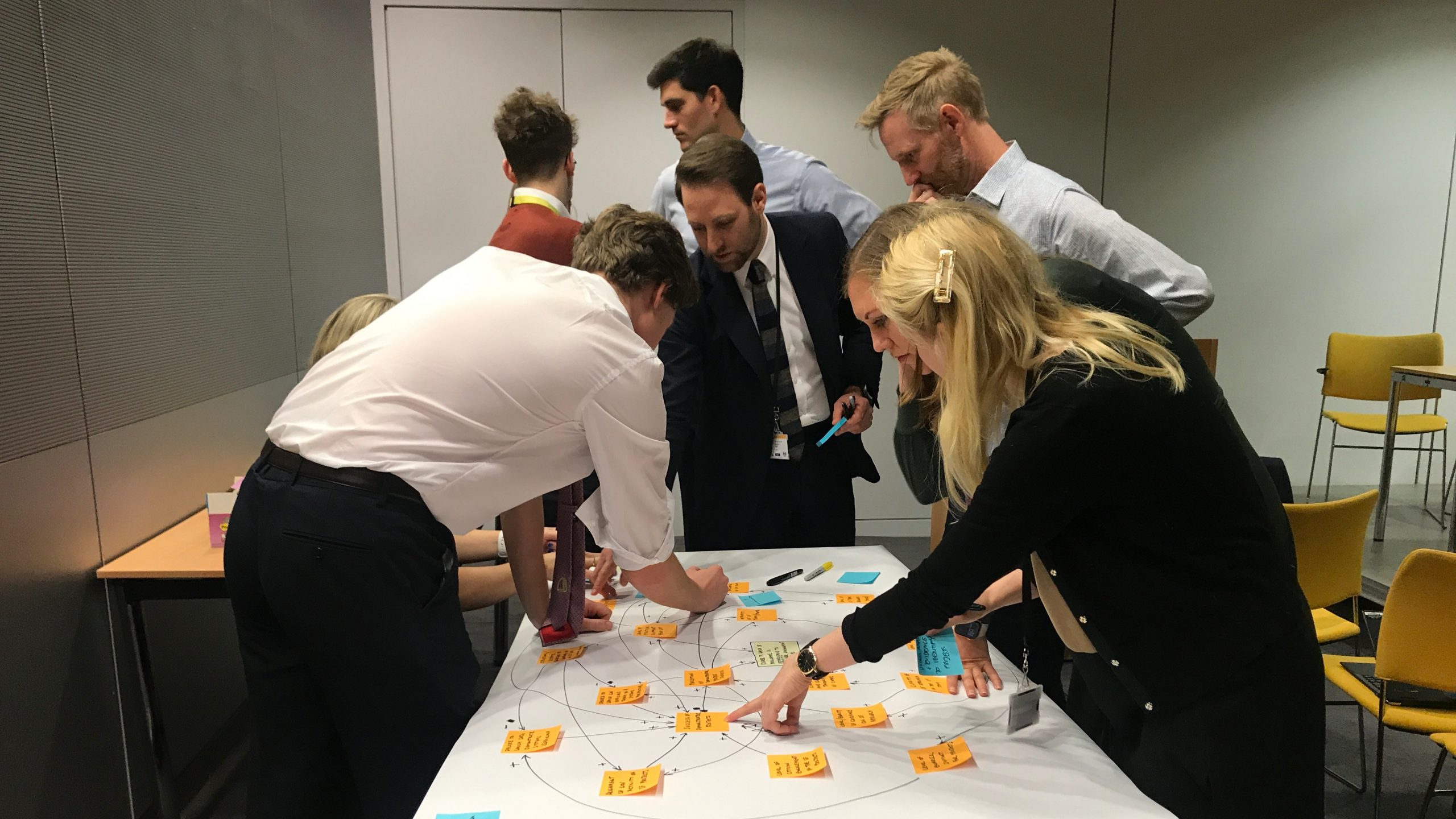 I'm a systems engineer at heart but also passionate about design. Systems thinking has grown on me over many years of practice and research and I now do all that I can to promote it. 
I'm often asked to define a 'systems approach' and where to get started with systems thinking.
Forget the textbooks. Don't worry too much about the theory. I'm not saying these things aren't valuable. I'm simply saying that they can wait.
Start with some simple questions 
I recommend that you start by asking some questions (which, to reassure you, are founded on research, many hours of thinking and theory). 
In my opinion, the best and fastest way into systems thinking, into any discipline for that matter is to ask questions.
No academic qualification is needed to wonder. Anyone can ask questions and doing so can reveal more to you than the insights of one academic or twenty books.
What you learn from the answers is not only more likely to stick with you, it will provide you with a much fuller picture … and many more questions.
Here are some questions I co-designed when working on Engineering Better Care with the Royal Academy of Engineering, The Academy of Medical Sciences and The Royal College of Physicians. They are focussed on the key perspectives of people, systems, design and risk.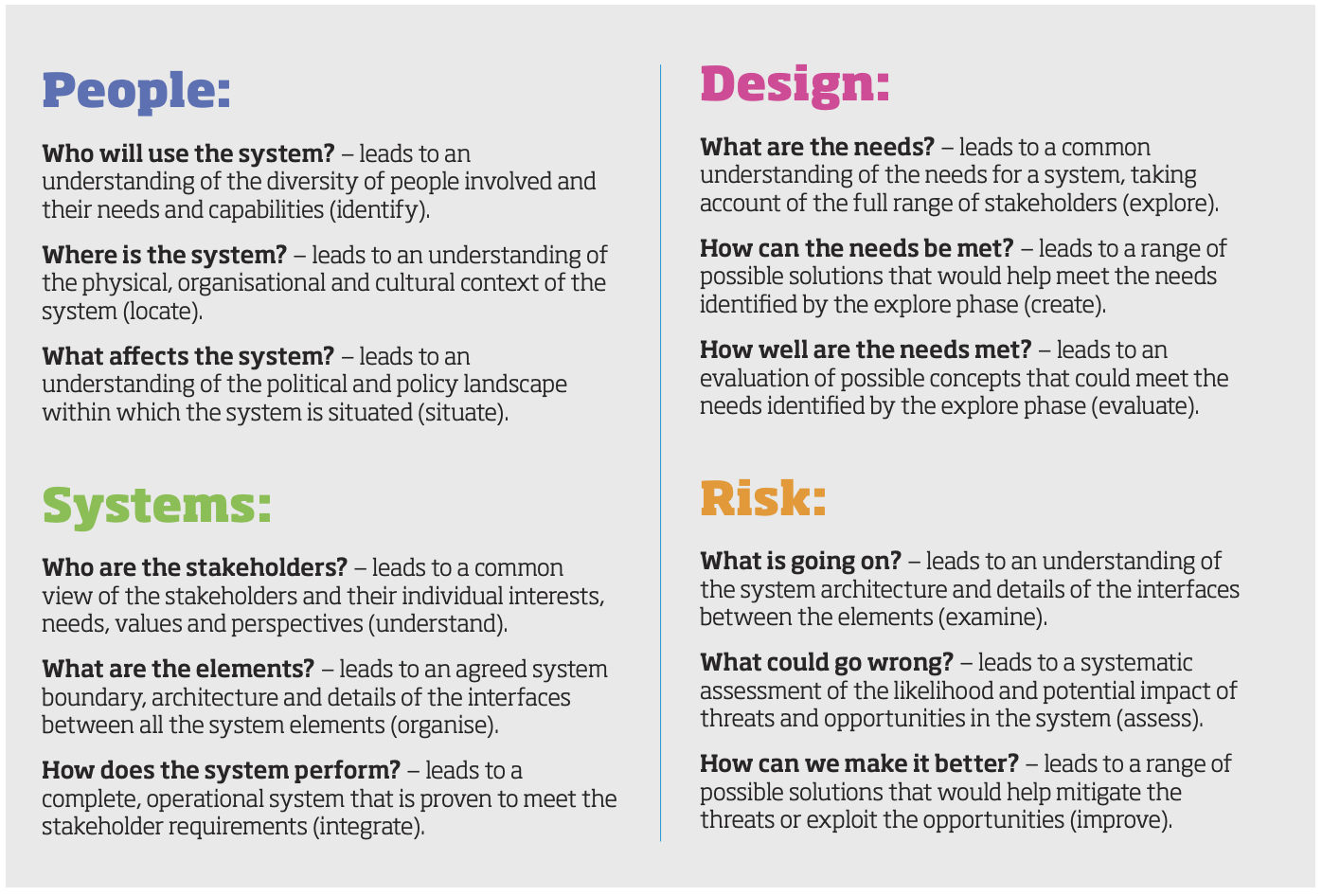 Asking these questions in an appropriate, yet flexible and repetitive order constitutes an 'approach', but I often don't tell people that I'm using a systems approach because it can feel alienating, something only a specialist can use. 
Slipping the questions naturally into a conversation reveals much about a system and typically identifies numerous opportunities for improvement. If I had to pick just 4 to start with, I would ask the following:
Who are the stakeholders?

What are the needs?

How can the needs be met?

What could go wrong?
Don't get hung up on a common language 
In some situations, a common language it's vital. When a surgeon has to remove an appendix, it matters quite a lot that there is an agreed understanding of the words 'remove' and 'appendix'.
When it comes to systems thinking, my answer might surprise you: it really doesn't matter. I'm being provocative but here is a true story to illustrate my point. 
Years ago, I was invited to join a team who wanted to explore how patient safety could be improved using systems thinking. The team comprised medics, a designer, and me, a systems engineer. 
So far, so good. 
The practice of agreeing definitions at the start of a project is something of a habit (particularly for academics) so that's what we did. 
There were moments when the designer and I almost came to blows because we couldn't agree what 'design' meant. 
Design to the designer meant asking the questions: how does it look? how does it delight? what does it do to the senses? 
Whereas design to me, an engineer, it meant asking the questions: how does it work? how can we ensure its structural integrity? How can we manage the risk in its development? How do we minimise the cost?
In short, 'design' was both a noun and a verb. Or put another way, it was an outcome to the designer and both behaviour and a process to me. 
Ultimately, it didn't matter that design meant different things to each of us. What mattered was that we finally understood what the other meant when the word was used. 
That's a huge part of systems thinking and there are lots of brilliant examples of where different views on design coalesce and result in the creation of beautiful, functional things.
All too often I see people getting hung up and wasting time trying to agree on a common language. It is far better to spend your time understanding the points of view of others in your team. It's better when there are a plurality of views. That's systems thinking. It's good practice in life generally to try and see things from multiple perspectives. 
This is something I embed in my team. We don't need to have a common language - we just need to be good at translating. 
Turn the idea of constraint on its head
Something I've observed, particularly when it comes to designing policy is that people see the barrier around the thing they can control but that isn't the same as their boundary of influence. 
For example it's common to hear 'As X, We can't do Y because of Z'. 
I suggest we turn that idea of constraint on its head. Instead of saying 'I can't do this because…' ask yourself 'What is the ideal policy or behaviour that we want?' What does 'good' look like?
It's a good place to start when a new team comes together. I encourage policymakers to use this technique because putting too much of a focus on constraints crushes you before you get anywhere close to delivering better outcomes.
So when it comes to designing policy - do notice when you feel barriers and boundaries are, but see if you can go beyond that and then, and only then, think about what is pragmatic. Approaching a solution from beyond the boundary brings a rather different perspective than trying to reach it from within. Dream a little before the reality kicks in.
The benefits of systems thinking in government 
I've worked with teams in central government for many years and I thought it might be useful to share my 'outsider' view.
You might wonder whether it's possible to be a systems thinker in government. The institution of government is designed in a departmental model and this has understandably led to silos. I would argue that effective systems thinking is possible even in a silo.
You can influence the system just by understanding your area better. You can do this by understanding where you sit in the system, who is above you, who your counterpart is in a different department. Siloed or not, systems thinking at the very least, can help you determine who you should be talking to.
At the moment I'm working on just that. I'm part of a team tasked with understanding how parts of government are connected around a particular topic. We're asking policy makers to map areas of influence to policy to determine where conversations should be happening. 
It really does seem to me that the best policymakers are already using systems thinking in government. It's the future. It's important to develop a class of people who understand systems thinking and are given the opportunity, encouragement and protection to use it. Hopefully by writing this blog post, I've made it a little easier to get started.