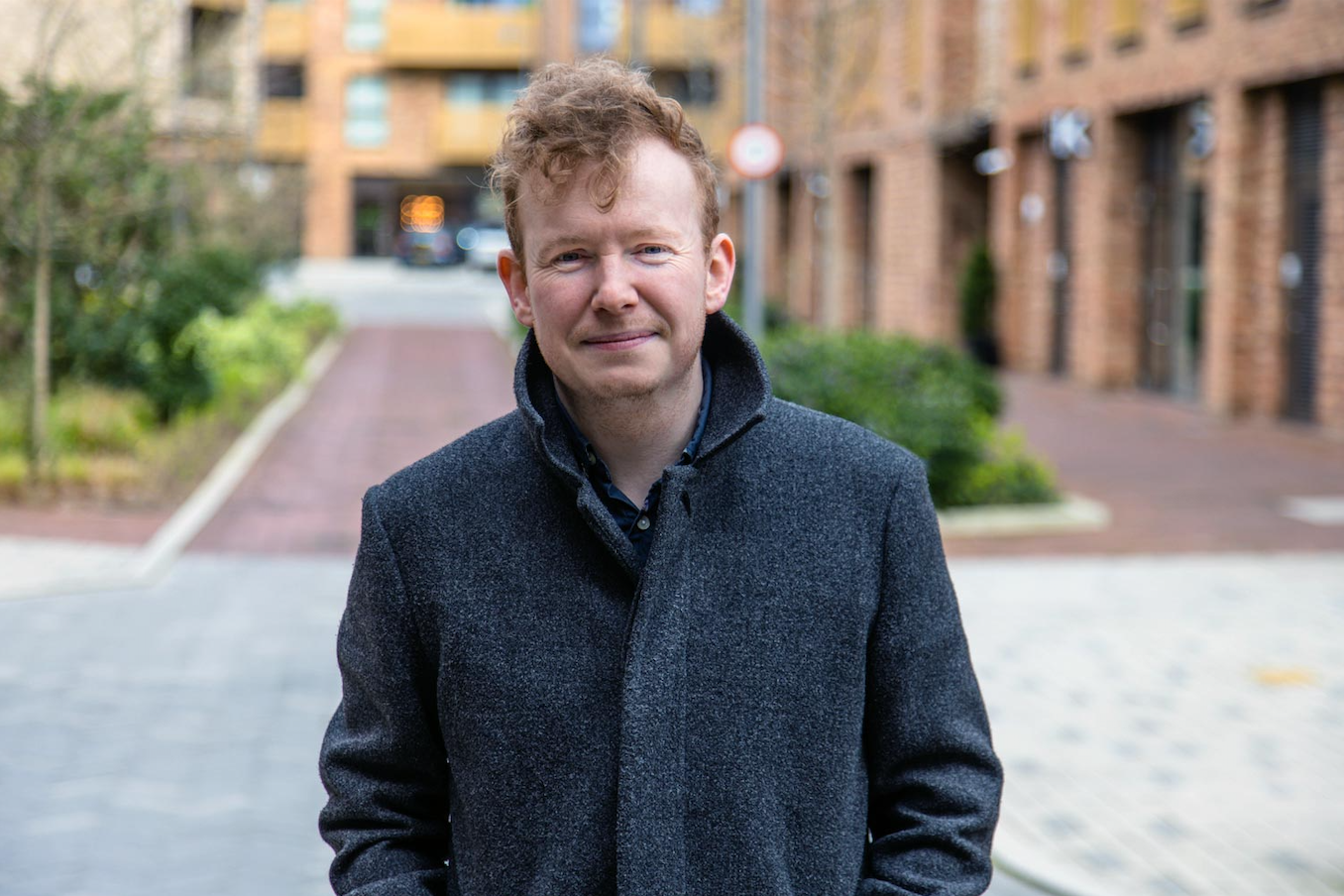 'Collaborate' has become something of a rallying cry in the public sector over the past few years. We've heard how collaboration leads to better outcomes for citizens, how it has enabled civil servants to better spot (and avoid) unnecessary duplication and how it can improve morale. All good things. 
However, when it comes to designing systemic policy solutions to complex problems, I believe that collaboration, on its own, is not enough. So what is needed beyond collaboration? I thought I'd share my thoughts in a blog post and share three concepts that might help you engage with stakeholders on the topic. 
Be collaborative, but
think
systemically 
Firstly, I want to say that systems thinking and collaboration aren't the same thing. Many may think that by collaborating, they're approaching things systemically. They most likely aren't. In order to develop systemic solutions yes, you need to collaborate and convene systemically, but you also need to ensure stakeholders are thinking systemically.
Bringing stakeholders together is absolutely essential if you want stakeholders to better understand a system, define their goals and design a solution.
Collaboration means stakeholders have an opportunity to be heard. The system benefits from diversity of thought. It can also help people to resolve conflicting views and potentially reach consensus.
But it's just as important that there is a change in mindset towards thinking systemically because even when stakeholders convene, there is a high risk they assume that the best way to improve the system is to focus on their individual part.
Consider the elephant 
One way to help 'think systemically' is to consider the elephant.
You might be familiar with the ancient parable of the blind men and the elephant. In the story, several blind men interact with a different part of the same elephant, assuming that what they are interacting with is the whole elephant. 
They do not see that they are interacting with one piece of something bigger and more complex.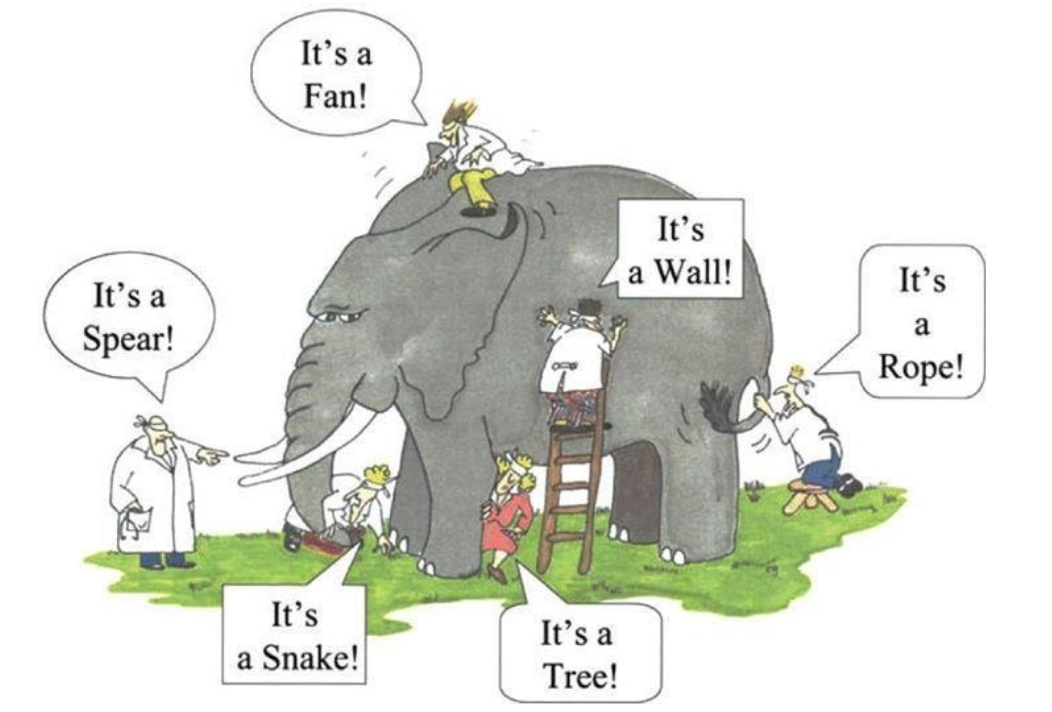 For me, it illustrates the challenge of enabling diverse stakeholders to see the bigger picture.
To optimise the performance of the entire system, stakeholders need to shift from trying to optimise their element of the system to improving relationships among its constituent elements. They need to shift towards thinking systemically.
Use the iceberg 
Another concept for helping stakeholders develop an initial picture of the true elephant (any complex system) and beginning to look at things systemically, is the iceberg metaphor.
It is a simple means of distinguishing problem symptoms from root causes.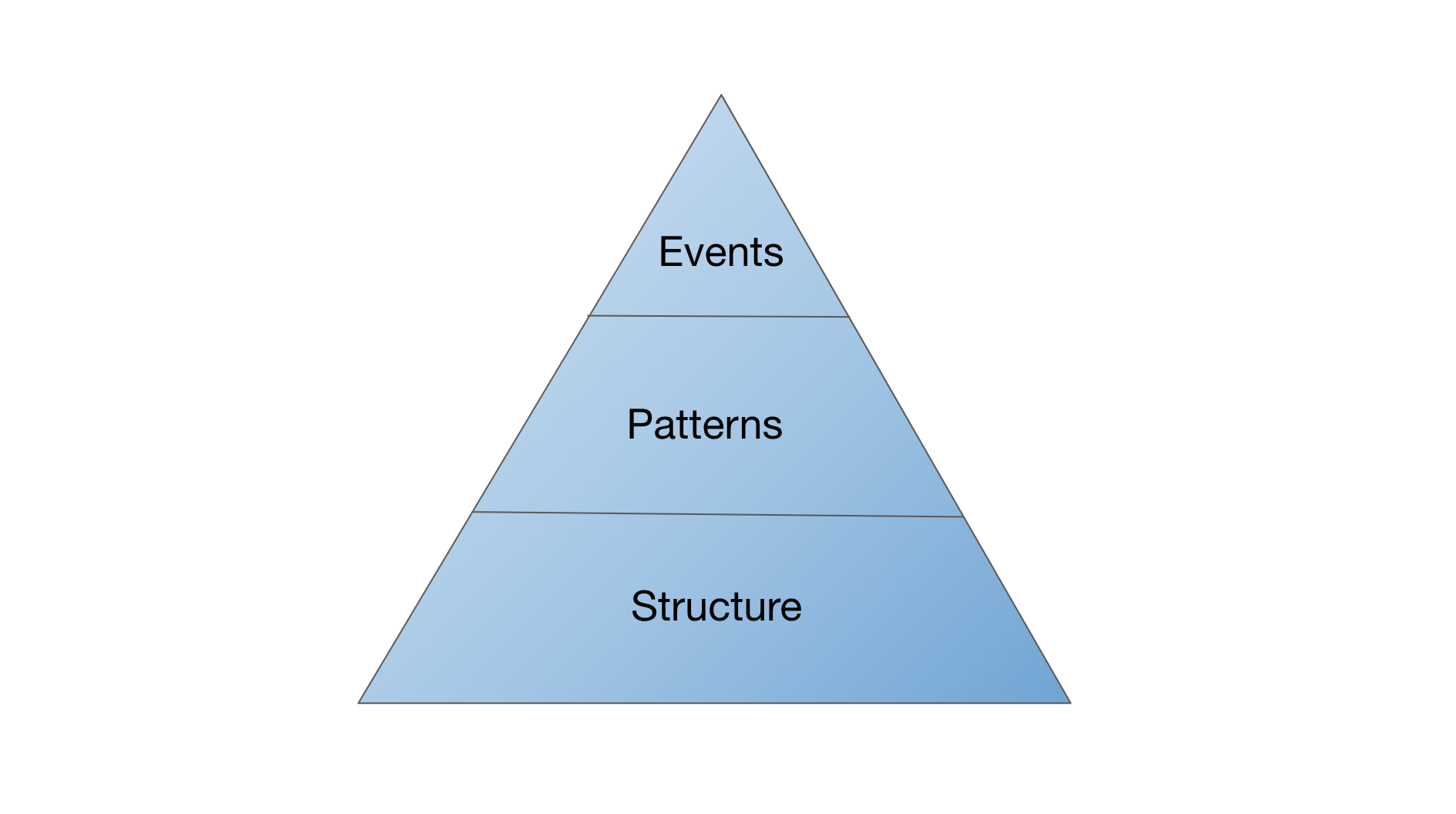 The iceberg distinguishes: 
Events

(what happened)

Patterns

of behaviours that link events over time (what has been happening)

System Structure

the hidden element of the iceberg that causes the most damage because it shapes the trends and events (why has it been happening)
The root causes of a chronic, complex problem can be found in its underlying systems structure – the many circular, interdependent and sometimes time-delayed relationships among its parts.
Creative tension 
A concept which can help resolve a complex problem is that of a 'creative tension' model introduced by Peter Senge in 'The Fifth Discipline'. 
This proposes that the energy for change is mobilised by establishing a discrepancy between what people want (a goal or vision) and where they are (current reality).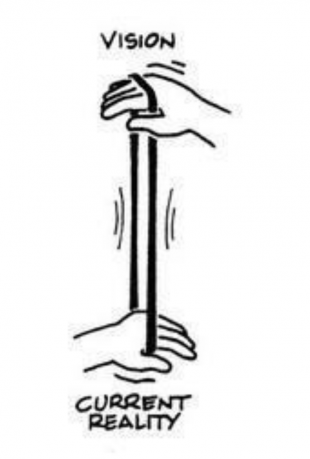 Source: The Fifth Discipline, Peter Senge
When stakeholders have a common goal and a shared understanding of not only where they are now but also why – they can then establish a creative tension, which they are more likely to be drawn to resolve in favour of their goals. 
Stakeholders often agree on where they are at the top of the iceberg, but fail to see the underlying systems structure that they are affecting and affected by. Developing a shared understanding of why the current reality exists, using something like a systems map, is essential to addressing this visible challenge.
Developing a shared picture of what people want as well as of reality at a deep level enables stakeholders to experience their responsibility for the whole system not just their own role.
The top and the bottom of systems thinking and collaborating 
When developing robust solutions to systemic issues, stakeholders need to, in addition to collaborating, start thinking systemically and make 3 broad changes:
from

observing their own area to seeing the wider context, and considering it as a system

from hoping others will change to seeing how they can first change their own actions and behaviors, and shift how they relate to others in the system

from concentrating on individual events to understanding and redesigning the deeper system structures that cause these events
In helping stakeholders along this journey, you might want to consider sharing the concepts of the elephant, the iceberg and 'creative tension'.
Do you agree? Disagree? Have any other concepts to recommend? Let me know your thoughts in the comments.